What steps do you usually follow to develop a dish?
Generally a lot of trial and error! We start with a historically inspired idea or recipe; it could simply be a dish that sounds amazing, a flavour combination, or a combination of different ingredients that we think would create an interesting, textural dessert that could evolve into something we could have on the menu at Dinner as a contemporary version.
Afterwards, we sit down and bounce ideas about flavours and textures off each other to then sketch what we have in mind. As Ashley says, we work together and "dovetail"; the whole process is quite organic. The next step is to start making the dish. We don't necessarily lock ourselves into the sticking to the original idea; it may take a completely different direction part way through the process if ever we feel that it would benefit the end result. This often happens, but other times a dish can end up being extremely close to our original sketch. -DS
Were there any elements of the dish that you already had recipes for that fit in well with the historical reference or flavour profiles you had in mind?
Once we had our initial idea of how we would put this together we started on each element: the form, the texture, whether it was liquid centred, frozen, or an element that would give fresh acidity to the dish. In the early stages of the dish we decided to incorporate some flavours that we had used before but felt we'd never really finished playing with.
The flavours were based around malt, barley, spice, chocolate and honey and so we borrowed these flavours from previous components we had worked on, adjusted a little bit and added new elements to put them into a completely different context for the Chocolate Drop idea. - APW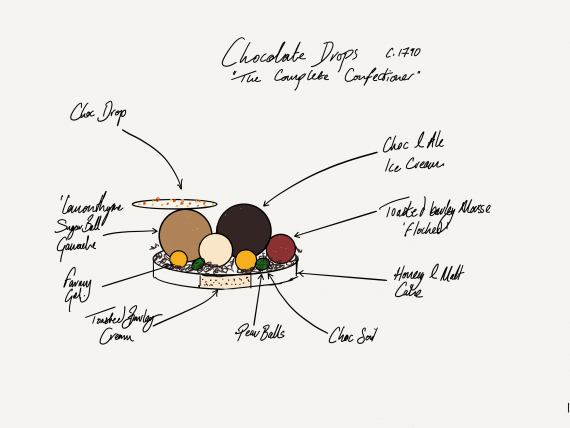 Where was the most trial and error in the development process of the dish?
I think there were quite a few tricky parts to this dish. First of all the original recipe didn't really mention any flavours other than chocolate so trying to decide what direction to pursue was our initial task. First we decided on the chocolate and citrus pairing, but later decided on bringing back the flavours of malt, barley, spice, chocolate and honey from the Beekeeper dish we had on the menu in London a couple years ago.
The trickiest part was probably bringing the right balance of freshness and acidity into the dish that would also work well with the barley, malt and chocolate. We also frequently discussed how it ate, with the components separated into enclosed balls we had to figure out how to marry the flavours. It was here we decided to infuse the sponge with a bit of the verjus syrup and also hide some dots of cider gel and lemon thyme ganache under the crumb, doing this really helped the overall balance. –DS
How close is the Dinner version of the dish to the original recipe from the 1700s?
Our dish is quite reminiscent from a visual point, but we have embellished it somewhat with complexity and flavour; it is like a giant version of what a white Chocolate Drop would've looked like in the 1700s, but of course the original was the size of a 6p coin, so about 2cm.
The base is made from ale and malt cake and covered with crystallised chocolate and on top encapsulated flavour pockets of deep, rich texture and flavour: a light barley cream, chocolate and ale ice cream, compressed pear in verjuice, aerated white chocolate and of course the golden sugar ball filled with chocolate ganache and lemon thyme. It is many different flavours in many different ways.
The most important part of bringing this dish together was its balance and how all these elements work together to leave you wanting just one more bite. - APW
Anything you found especially interesting about the Chocolate Drops?
Frederic Nutt's original recipe was:
'Chocolate drops: Chocolate warmed then added to copper stew-pan with powdered sugar. Roll into the size of a small marble and place on white paper; flatten by holding the corners of the paper and lifting in the air and then dropping on a table top until balls are flat like a sixpence.'
– Excerpt from The Complete Confectioner by Frederic Nutt, 1790
He was an apprentice of the renowned confectionary "The Pot and Pineapple", known for their ice cream, frozen mousses, jellied fruit, candies and caramels. In the 1700s the confectioner's art required as much precision and craft as a sculptor or silversmith. Equipment for refining sugar resembled those of a foundry, including specialised pans for melting, devices that calibrated heating and cooling and intricate moulds. After learning his trade he then went on to flourish as a writer and published several very successful books. Nowadays Chocolate Drops usually surface around Christmas time and certainly my generation would remember well seeing them as children. To create a dish inspired by not only the 1700s, but also by my childhood has been a brilliant experience. - APW