The Enchanted Lunch
Saturday, 9th of March
An extraordinary afternoon bringing together the talents of Ashley Palmer Watts and David McAllister AM.
While guests delight in a four course tasting menu, David McAllister AM, Artistic Director of The Australian Ballet and Ashley Palmer-Watts, Chef Director will give a rare, behind the scenes insight into the creative synergies between their two worlds. Diners will be immersed in a discussion about the parallels between their artistic processes: taking a concept like a story or a recipe and reinterpreting it into ballet or food.
Four course lunch menu with paired wines available on Saturday, 9th of March for $325 per guest.
Image featuring Isobelle Dashwood and Amanda McGuigan. Photography Kate Longley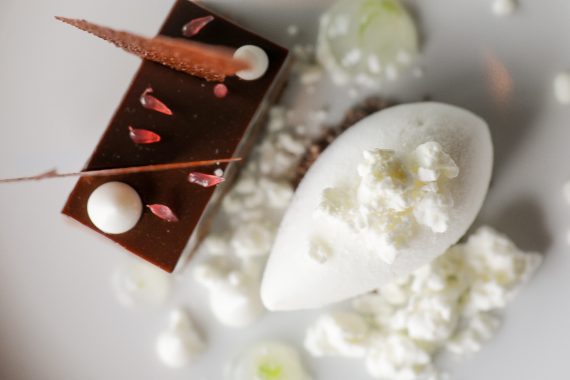 Icon Dessert and Cocktail Flight
Tuesday, 12th of March to Thursday, 21st of March
Sample three of Dinner's most iconic desserts & cocktails after dark.
Guests are offered the unique opportunity to enjoy the craftsmanship of the bar and the pastry kitchen simultaneously. An exclusive flight of three cocktails paired with three of Dinner's most iconic desserts – the Sambocade, Chocolate Tart and Tipsy Cake has been created especially for the occasion.
Flight of three signature desserts paired with three cocktails, $80 per guest. The flight will be available from 9pm onwards, on Monday to Thursday for the duration of MFWF.